Conducting Programme
The Ingenium Academy is running a conducting course this summer for budding 14-18 year-old conductors
About Our Conducting Programme
Dates: 15 - 29 July 2018
We are offering a unique opportunity for young conductors to gain hands-on experience and expert tuition in conducting.
Course information
In 2018, we are offering two separate weeks of our conducting programme. The first week is for students with a modest amount of experience. The second week is for more advanced students with considerable experience. Students may attend the two weeks consecutively.
Dates for the 2018 Conducting programme are as follows:
15 July - 22 July: Intermediate
22 July - 29 July: Advanced
Conducting Programme
Our conducting programme encompasses all the essential rehearsal and performance aspects for young conductors. Each day will comprise a full warm up followed by individual and group tuition across the following areas:
Score reading and preparation
Musical analysis and history
Baton technique
Rehearsal technique
Controlling, shaping and phrasing
Rehearsal experience
Students will also have the chance to conduct part of a live rehearsal. During the Intermediate week students will be working with smaller chamber ensembles. During the Advanced week there will be opportunities to spend some time observing and contributing to rehearsals with the Ingenium Academy orchestra/choir.
Q&A Masterclasses
Students will have the rare opportunity to attend "question and answer" sessions with professional orchestral players, to learn from the performers' perspective about the best forms of communication and direction for each instrument group.

Auditions
As part of your application to the Ingenium Academy Conducting Programme you will need to submit a short audition video and written personal statement. In addition there will be some score analysis questions that you should answer to the best of your ability.
We are looking for young people with a keen interest in conducting, a high standard of musicianship, a great sense of team spirit and a love of music making.
Read more about conducting applications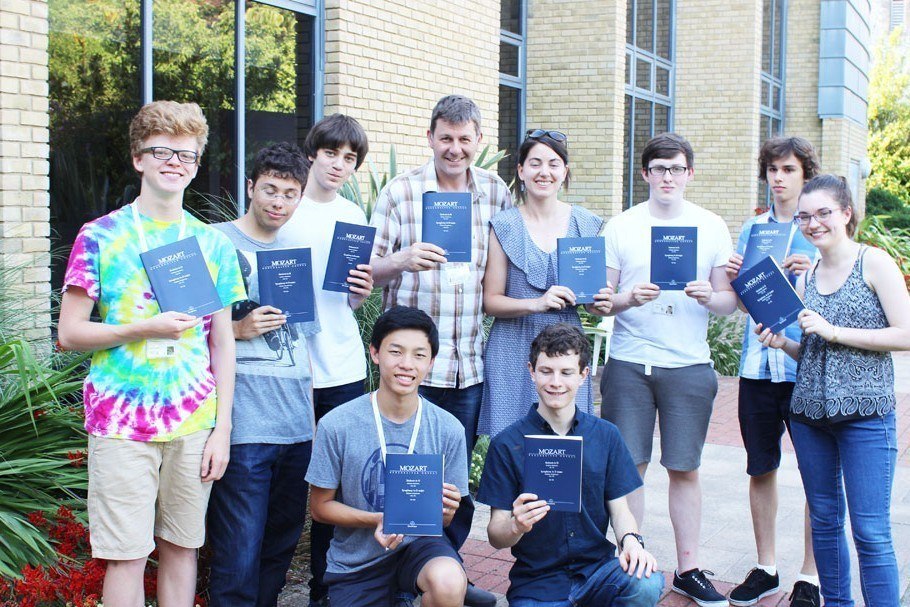 Workshops

Our students will also have the opportunity to take part in a range of vocal, instrumental and musical workshops led by internationally renowned experts in jazz, chamber, folk and international music. These workshops are designed to broaden each student's musical experience by exposing them to something new and challenging.
Previous workshops have included:
- Musical awareness, performance skills and interpretation
- Composition and arranging
- Jazz improvisation and performance
- Instrumental improvisation and devising music
- Chamber and small ensemble playing
- Beatboxing and a cappella
- Life in the music industry
- Gospel choir
- Healthy instrumental practice techniques and avoiding injury
- African drumming, body percussion and dance
Course leader: Tim Redmond
We're delighted that our conducting programme will be led by Tim Redmond. Tim is a regular guest conductor with top orchestras across Europe and has given concerts in the UK with the Philharmonia, Royal Northern Sinfonia and London Philharmonic Orchestra, with the BBC Concert, Philharmonic and Symphony Orchestras, with the Hallé, Royal Liverpool Philharmonic and Ulster Orchestras, as well as Sinfonia Viva and the National Youth Orchestra of Great Britain. He has a long-standing association with the Manchester Camerata, and in 2006 was appointed principal conductor of the Cambridge Philharmonic.
Tim has conducted concerts in Italy with the Filarmonica Arturo Toscanini, in Hungary with Concerto Budapest, in Finland he is a regular visitor to the Oulu Sinfonia and he has toured Estonia with the Vanemuine Orchestra. He has appeared in Bosnia with the Sarajevo Philharmonic, in Ireland with the Wexford Festival Orchestra, in Macedonia with the Macedonian Philharmonic, in Slovenia with the Maribor Symphony, and in Holland with the Rotterdam Philharmonic.