Introductions to Alexander Technique and final preparations for our Oxford concert - Overture Week Day 5
Final preparations for Saturday's concert have been taking place, and it's shaping up to be a great one!
Alexander Technique with Helen Kearns
Matt Sharp's Whole School Warm Up had us stretching for success with lots of body percussion and positivity, despite the typically rainy British weather! We put the 'sunshine on our chest', radiating the kids with sunshine as they entered their final day of rehearsals.
Today the chamber groups' focus was performance and how to make material resonate in the concert hall. They combined their work on blend of sound, projecting and stepping out into the spotlight to give excellent run through performances. Our chamber coaches then took the opportunity to give our musicians some final words of encouragement, knowing the students could push themselves that extra step towards the most successful performances. Our Friday lunchtime concert also gave the chamber musicians the chance to get the real concert experience, and all rose to the challenge with smiles on their faces.
Chamber music students in rehearsal
Our piano students took part in a performance class this morning, and had the chance to play to and receive feedback from each other and staff. It was a great way of bringing the group together, hearing new pieces and being able to think with a critical ear when listening to fellow musicians. Our fantastic Alexander Technique tutor, Helen Kearns, also worked with our pianists and the rest of our musicians on posture, healthy playing and connecting with the physical self.
Helen Kearns with our musicians
Composers continued finalising their pieces and then worked with the chamber musicians one last time to improve their material further. Bar by bar, they checked every note and ensured everyone agreed on the meanings behind the music and what they wanted to convey in the Holywell Music Room, Saturday's beautiful performance space. Our group has learned so much this week on how to write for specific instruments, how to convey musical ideas effectively on paper and how to workshop new compositions with players.
Our smiley composition students
The rainy weather unfortunately persisted for our Friday barbecue so in true British stylish we ate indoors. Afterwards, we enjoyed some great games, including the famous 'cup song' from the film Pitch Perfect, before packing our things for tomorrow's early coach and heading to bed.
The week has gone so quickly, and we don't want things to end! But we are equally super excited for tomorrow's concert and for our students to fully express themselves and wow our audience. We can't wait to share the results tomorrow.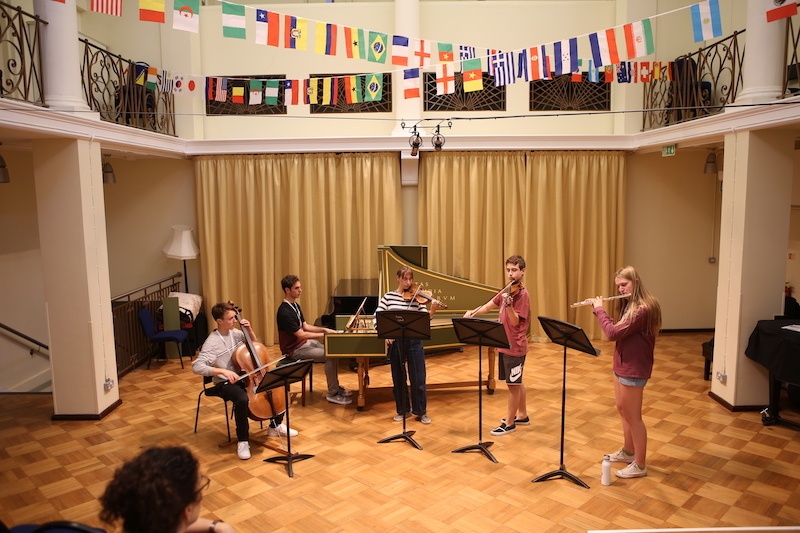 Final chamber music rehearsals
See more photos from this summer on our Facebook page.
Musicians of the day:
Piano: Francesca, for playing Mozart so beautifully, standing out in performance class when not expecting to play and really thinking about and working on ideas to improve
Chamber Ensemble: Mendelssohn Trio (Abby, Arina, Ailynn), for being a dream to work with, responsive in rehearsals and writing words in the score, giving so much to the group and epitomising the spirit of chamber music at Ingenium
Composers: Attilio and Andrew
Attilio for improving in ability to write ideas down, speaking eloquently about what is being conveyed, being respectful of ideas and open to feedback and showing joy and professionalism throughout
Andrew for the level of focus shown all week, building a lovely rapport with musicians and staff, being open to learning from everyone around him and making brilliant adjustments and supporting others.
Our Programmes

More information on our seven programmes: Chamber Music, Composition, Conducting, Orchestral, Piano, Saxophone and Vocal.
Programmes range from 1 week to 4 weeks long. Students can attend one immersive programme, or broaden their experience by combining programmes to suit their interests.
Any Questions?

We love speaking to young musicians, teachers and families from around the world - so don't hesitate to get in touch, we'd love to hear from you!

Email: info@ingeniumacademy.com
Phone: +44 (0)20 7060 4076
Follow more of our adventures...