Chamber Music: Past and Present
When we talk about chamber music, most of us imagine a Haydn string quartet, or a Schubert piano trio - but where did the first chamber music come from, and how has it changed to become what we know today?
Interested in spending your summer playing chamber music, with talented young people from over 50 countries around the world? Find out more about our Chamber Music programme.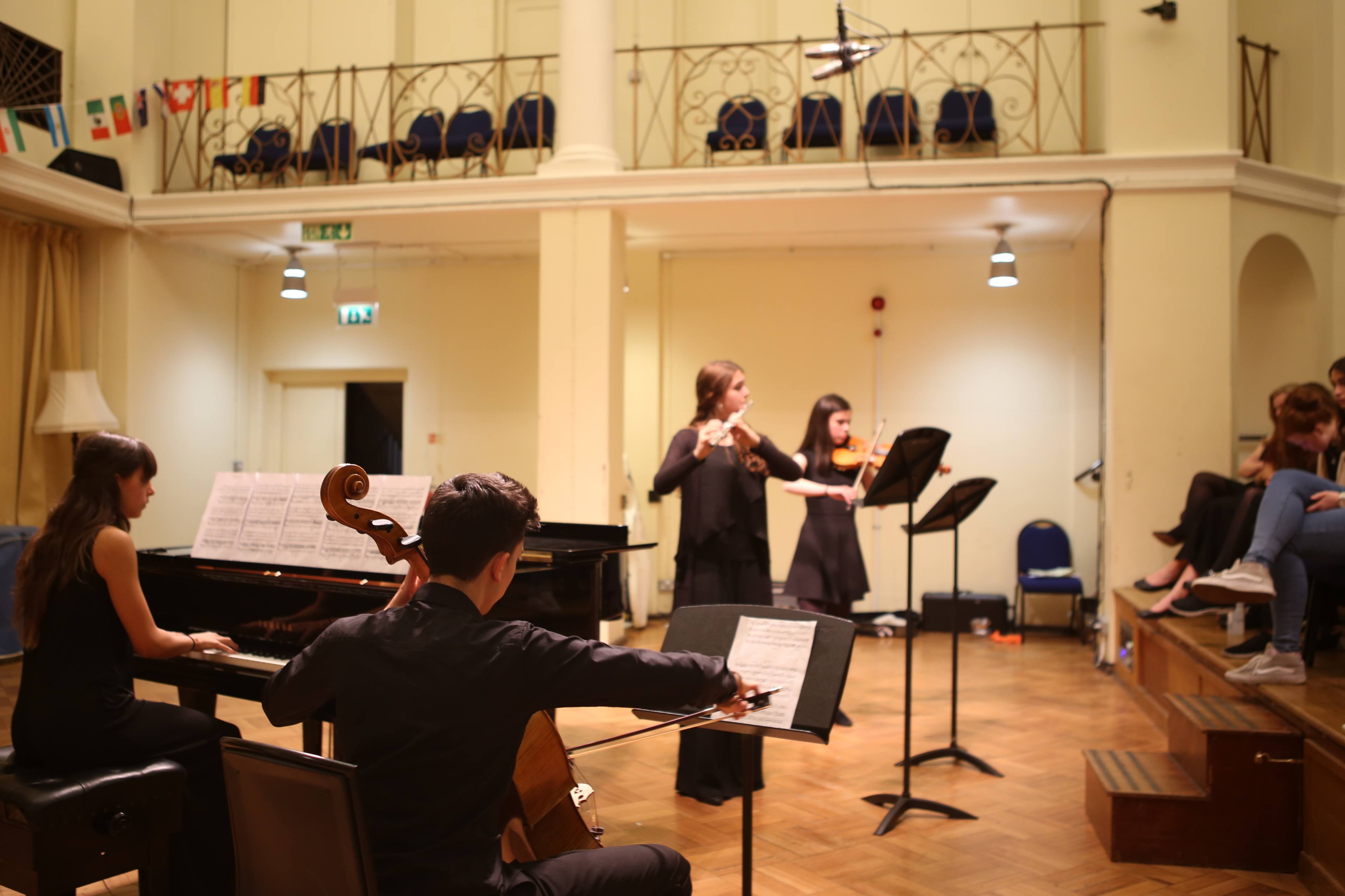 Ingenium Academy students giving a performance of chamber music
The name 'chamber music' comes from its origins as music written to be played at home, in a smaller room (or 'chamber'), where small groups would play as entertainment for guests. The performers were often amateur musicians.
Today chamber music is most commonly heard in the concert hall, and the term is used to describe any music for small ensemble. Contemporary chamber music covers a whole range of instruments, ensembles and musical styles; but how did this music change over time?
The first chamber music
Chamber ensembles around the mid-15th century varied across Europe but commonly included instruments such as voice, recorder, flute, lute, different sizes of viols (early string instruments) and harpsichord. Much of it was very simple, and often it would not specify which instruments were to be used, so amateur players could perform on whatever instruments they had available.
G.F. Handel's Trio Sonata in F, published in 1733
Musical conversation
It was not until three hundred years later that Joseph Haydn began to change everything. Haydn is largely credited with establishing the chamber music tradition as we recognise it today – particularly with the string quartet, for which he wrote a massive eighty-three works.
All of a sudden, chamber compositions began to take on a form and musical importance that would eventually rival that of the symphony. Composers began to explore the nature of the one-to-a-part ensemble, passing motifs and melodies from player to player like a conversation. It was a new way of writing that would characterise chamber music for the next two centuries.
Joseph Haydn Quartet in B flat Major "Sunrise"
Taking to the stage
Throughout the later Classical and early Romantic periods, composers like Mozart, Beethoven, Schubert, Mendelssohn and Schumann took chamber music to new territories. They expanded the repertoire for wind ensembles, and the newly invented pianoforte.
The move from home to concert hall began around the early 19th century, when Europe's rich aristocracy was collapsing. Composers began to earn their living from selling and performing their compositions, instead of living under the patronage of wealthy aristocrats. As a result, public performances of chamber music became increasingly widespread.
Franz Schubert's Das Forellen Quintett ("Trout Quintet")
Going professional
Throughout the 19th century, amateur performance of chamber music thrived; but with the growing repertoire there also emerged an increasing number of professional chamber ensembles. By the 20th century, composers such as Debussy and Ravel were writing complex music for accomplished professional groups, which used the expressive power of the intimate chamber ensemble to full effect.
Claude Debussy's String Quartet in G minor
Brave new worlds
In the 20th century, movements like Serialism and Modernism began to see composers using chamber ensembles to create new colours and sound worlds; this was becoming music that was beyond the reach of amateur players. Composers even began to invent new ensembles to achieve the sounds they wanted, expanding the definition of chamber music to include larger groups.
Boulez - Le Marteau sans Maître
Chamber music today
By the mid 20th century home entertainment had already changed radically, and chamber music was no longer a common household activity – but professional chamber music was firmly established in the concert hall.
Today, chamber music is still immensely popular, with many world-class professional ensembles and composers working at the highest level, with many concert venues dedicating themselves entirely to the genre.
Why should I play chamber music?
Playing or singing in a chamber ensemble is not just a hugely rewarding experience, but the skills you develop are useful for performing in every scenario, from solo recital to full symphony orchestra.
Performing in a small ensemble, usually without a conductor, means that it is far more important to pay attention to the other players, and listen as much to them as to yourself. Without a conductor, communicating with your fellow players is even more important to ensure the ensemble stays together for entries, tempo and rubato.
These skills of keeping intense concentration, listening and communicating are all things that will greatly improve your music making, and help you become a better performer.
Would you like to spend you summer playing chamber music?
Our chamber music programme is for talented young musicians who want to gain or develop experience playing in chamber ensembles. Find out more on our Chamber Music Programme page or get in touch today.
Chamber Music Programme: 15 – 22 July 2018
Winchester College, England
Our unique programme is for 14–18 year old musicians with a passion for small ensemble playing.