Eurovision, The Olympics and new arrivals! - Week 2 Welcome Day
A warm Ingenium welcome to our new Week 2 students!
Old and new students together
Our pastoral team was at Gatwick and Heathrow Airports today, as well as London St. Pancras to ensure our departing students were safely on their way home. We really hope to see you all next year!
We also had the great pleasure of saying an Ingenium hello to some new students, ready to start their musical experiences with a smile and a selfie.
Welcoming students at the airport
Meanwhile, our staff in Winchester were making final preparations for our incoming arrivals, having rooms tidy, noticeboards vibrant and most importantly, enough cakes to feed everyone!
We were full of excitement as we welcomed our new students through the doors of the music school, as were our students who had already settled in to life at Ingenium. Tours of the school and the boarding houses were completed; fascinating stories were shared of everyone's home countries and musical ventures, and both old and new friendships quickly came to the fore. The atmosphere was one of infectious smiles and there was a buzz in the air.
This buzz grew when the afternoon activity was introduced: Eurovision! The famous Eurovision Song Contest is known for its inclusivity, musical variety and pure hilarity, which perhaps could also sum up our fun and caring Ingenium students. In this version, the group was split into eight groups and given a country to represent. Each country had to come up with a fantastically choreographed and coordinated arrangement in the style of a composer from that country.
Rehearsals for 'Eurovision'
After some time to rehearse with their fellow musicians, the group came back together to listen to each other's performances. We danced to music in the style of Tchaikovsky, reflected on solemn Chopin, revelled in the intensity of John Williams and swayed along to Adele melodies to close the show. It was then time for the results, and after some fierce deliberation, the winner was announced and England were the victors!
Eurovision Performances
Once everyone had been shown their rooms and settled in, we all enjoyed dinner together in our boarding houses before gathering for our Whole School Meeting. Here we introduced all our wonderful pastoral staff, learning everyone's role in Ingenium - and, of course, their favourite holiday destination!
With next year's Tokyo Olympics just round the corner, we were inspired to get the students in the mood for sports with the 'Ingenium Olympics', including an egg and spoon race with ping pong balls, balancing books whilst completing an obstacle course and human table football! Everyone got stuck in and socialised, and this week's family began to form.
The 'Ingenium Olympics'
Week 2 is sure to bring some immense music and lots of new opportunities. We can't wait to share them all with you!
See more photos from this summer on our Facebook page.
Our Programmes

More information on our seven programmes: Chamber Music, Composition, Conducting, Orchestral, Piano, Saxophone and Vocal.
Programmes range from 1 week to 4 weeks long. Students can attend one immersive programme, or broaden their experience by combining programmes to suit their interests.
Any Questions?

We love speaking to young musicians, teachers and families from around the world - so don't hesitate to get in touch, we'd love to hear from you!

Email: info@ingeniumacademy.com
Phone: +44 (0)20 7060 4076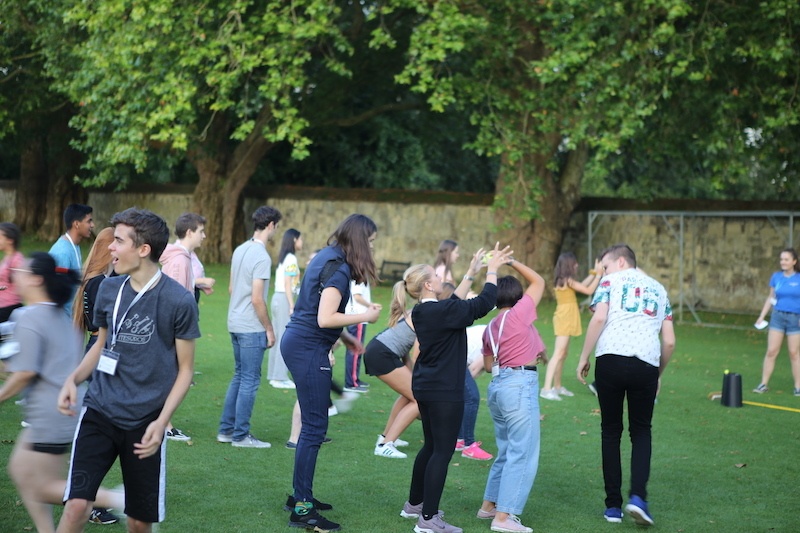 Follow more of our adventures...