The Ingenium 2016 Blog - Day 3, Week 3
Wednesday was the second of our two visits to London, this time to experience the busy city's famous Covent Garden Market, and to visit the Open Air Theatre in Regent's Park for their critically acclaimed production of Jesus Christ Superstar.
During the morning rehearsals continued with real progress made across the board. The orchestra are making transformational progress with the Copland and Adams, the choir are blending and singing wonderfully, and the saxophones have achieved noticeable progress so far both in their instrumental ability and musicianship.
The pianists enjoyed an exciting morning learning about the harpsichord and historical keyboard instruments with Heather Tomala, which for many was their first attempt to play an early keyboard instrument. Heather led a fascinating workshop on these instruments, and invited students to inform and reconsider their own interpretations of composers like Bach and Mozart. They also had the opportunity to play the organ in St Michael's, the chapel adjacent to the music school, which was a eye-opening and exhilarating experience.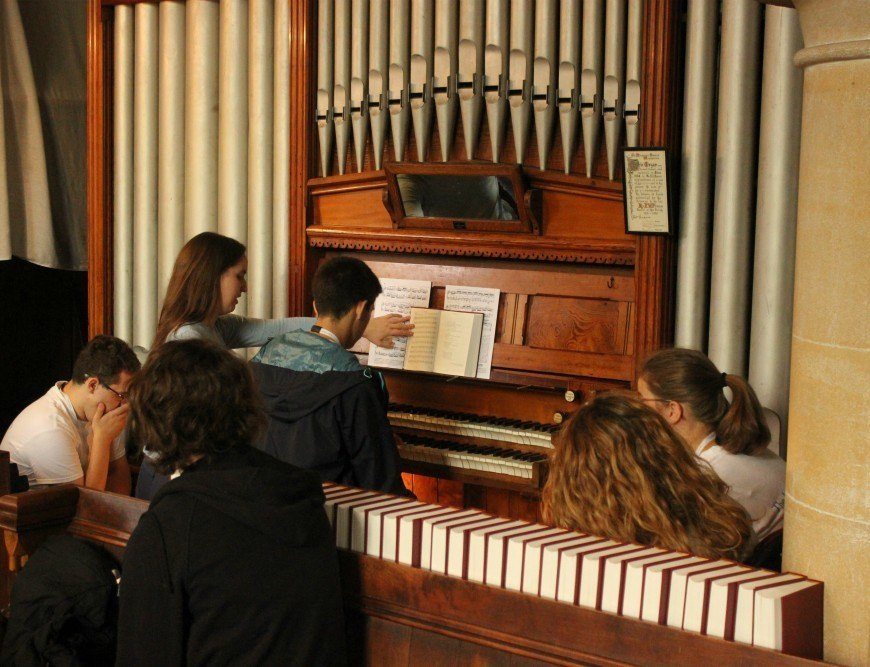 After morning sessions we piled straight onto the bus and headed for London. We ate our packed lunch on the journey, so that when we arrived in Covent Garden (via a very scenic route along the Thames and past the Houses of Parliament) we could maximise free time for exploring and shopping. Once arrived we split into groups to explore and soak up the city, except for some history-lovers who paid a visit to the British Museum, chaperoned by pastoral staff.
After shopping we headed to Regent's Park, where the Open Air Theatre sits in a wonderfully peaceful and beautiful green parkland right in the centre of London.
We had arranged to eat at the barbecue in the theatre grounds, and a crowd of hungry Ingenium students relished the chance to sit and enjoy a burger in the sunshine before the show. Jesus Christ Superstar was a spectacular production, with brilliant choreography and some truly stunning vocal perforamances. We were all spellbound throughout!