Ingenium 2017 Blog - Week 1 Weekend Update
One week down, another two musical and fun-filled weeks to go. Find out what we got up to over the weekend - and how we're already very busy at the start of our second week!
Friday was concert day - so the morning was focussed on final rehearsals. Our oboe students each had a lesson during the day with Jess Mogridge (Royal Philharmonic Orchestra, Britten Sinfonia), and with the concert repertoire already sounding fantastic after a hard weeks' practice our ensembles and soloists spent the day putting the finishing touches to their performances. Dress rehearsals in the afternoon were the final opportunity to tighten up any mistakes, before the concert began at 4:30pm.
It was a simply fantastic experience to see the result of everybody's hard work, and for our young musicians to share with their friends and families everything they had been developing throughout the week. The choir, saxophone ensemble and orchestra performed challenging music with musicality and professionalism, and our piano soloists gave accomplished performances beyond their years.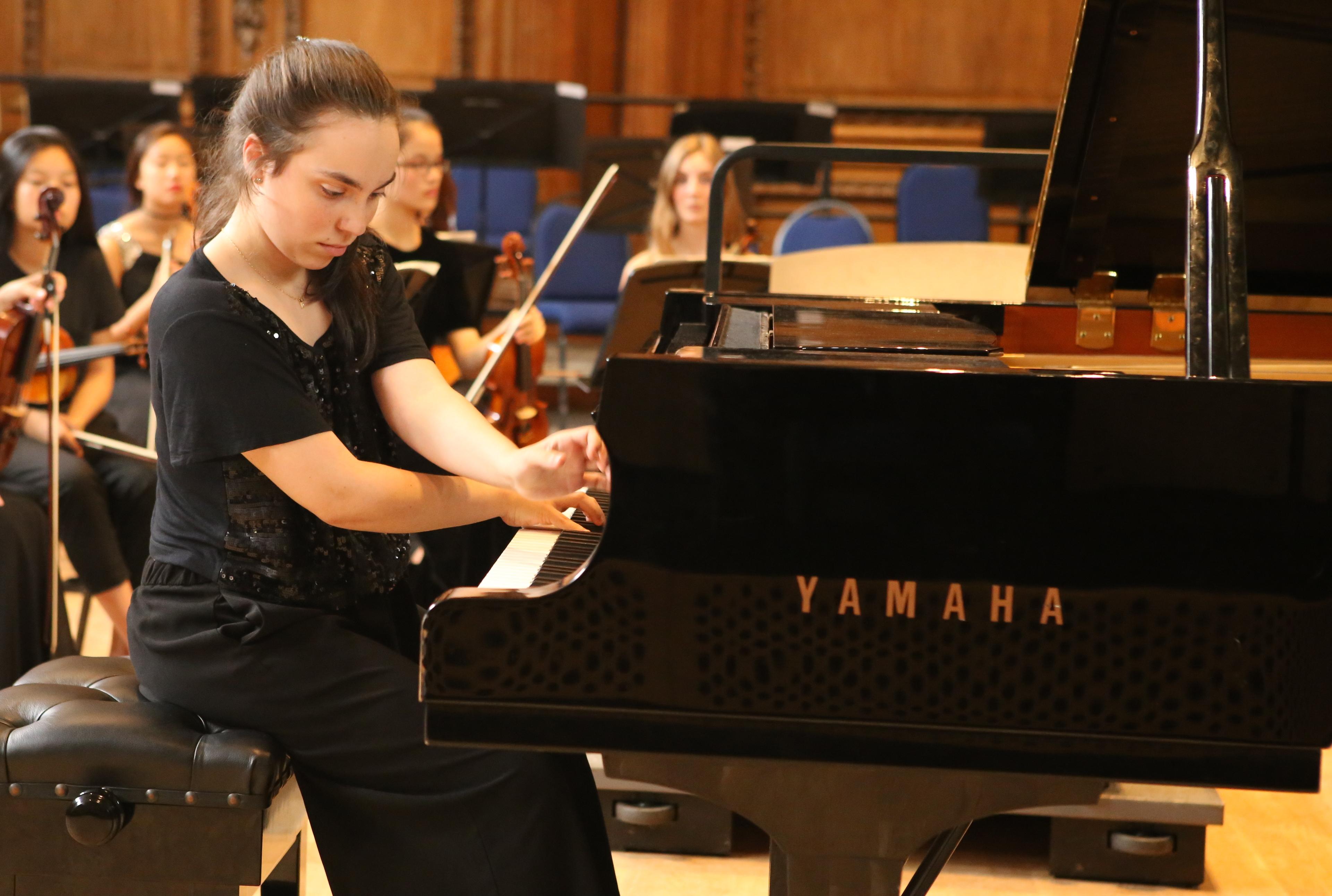 After the concert our barbeque plans were thwarted by the weather - but we were not disheartened, and instead had a delicious 'indoor barbeque' followed by a film night, using the amazing facilities in Winchester College's New Hall.
After everyone's hard work rehearsing and performing on Friday, Saturday offered some diversion and the chance to try something new and fun, in the form of a circus skills workshop. Skills included diablo, juggling, stilt walking, plate spinning and tightrope walking - all more difficult than they look...
Meanwhile, our conducting students had the chance to spend some significant time with the choir and orchestra, each swapping out at lunchtime with the circus skills workshop. This was a great opportunity for the conductors to put into practice everything they had learned during the conducting their friends as well.
With the weather against us once again, after dinner our marvellous Pastoral Team worked at lightning speed to turn the Music School into an Ingenium version of classic gameshow The Crystal Maze. Physical challenges, logic puzzles (with a musical twist) and even a 'laser' obstacle course turned quite competitive once everyone realised that House Points were at stake!
All too soon Sunday arrived, and we sadly had to say goodbye to some members of the Ingenium family who were only staying for one week - but very happily, this also meant it was time to welcome some new faces! Our team were once more out at airports and stations to welcome the newcomers and bring them back to join us.
Meanwhile, the rest of the school were engaged in a "Battle Of The Bands" competition, pitting the boarding houses against each other in a bid to create them most creative and entertaining cover of a popular song using voices and instruments. Armed only with lyrics and a chord sheet, the teams worked together to produce some truly impressive results! After a whole school meeting and saying hello to our newcomers, we played some team games to relax and make sure everybody felt welcome.
Week 2 begins....
And we're off! This week we are welcoming not just some new faces amongst the students, but also more great names in UK music: conductor Tom Hammond to our orchestra, and vocal specialist Adam Saunders to direct the choir. Adam put everyone in the spirit of the day with a whole-school sing after breakfast, but then it was straight into rehearsals and classes to get the week off to a flying start. The pianos and saxophones launched into individual lessons and worked on technique in group sessions, while Tim Redmond tipped the conductors into the deep end, sight-reading music with irregular and changing time signatures!
Visiting staff for individual lessons included violin lessons with Miranda Allen (BBC Concert Orchestra), oboe with Jess Mogridge (RPO), flute with Clare Findlater (BBC Symphony), and trumpet/trombone with brass specialist Mike Daniels.
Musicianship sessions on Monday were once more composition-focussed, with small groups focussing on different areas of writing music. This time however we welcomed special guest Keith Ayling to teach a really interesting session on songwriting for those who wanted more experience in composing songs.
The resulting material written by the groups was very impressive, with simple stimulus coming from everyday objects that were turned into lyrical and thoughtfully expressive music by our students. Other sessions included jazz composition, and a really valuable workshop on performance anxiety from Jess Mogridge.
The rest of the afternoon offered further time for our Chamber Music groups to rehearse, with members of our Conducting programme engaged in working with the ensembles to enable and guide them in rehearsal technique, before the final session of tutti rehearsal and classes resumed.
After dinner it was time to unwind after a long day of concentration - so what better way to blow off some steam than with Sports Day! Tug of war, sack race, egg-and-spoon and a complicated game with tights and tennis balls were all on the menu, and once more our boarding houses were pitted against each other to create a competitive spirit that really inspired our teams to try their hardest!
Musicians of the day

Monday 31 August
Orchestra
Tom Hammond awarded his first Musician of the Day to the entire French Horn section. During rehearsal they were switched on, fixed all their own mistakes independantly, and were generally proactive and brilliant.
Choir
Isabel G-P was Adam's pick, for being alert, awake and keen, for trying hard and having an excellent attitude.
Pianos
Isabella was the piano team's choice, for bravely trying sight-reading in front of a group and maturely receiving criticism.
Saxophones
Dom nominated Ivan, for learning flutter-tonguing in two minutes flat, and demonstrating huge improvement in his sight-reading. He also gave a great description of good air support to the group.
Conductors
Victor, for impressively sight-reading through difficult time changes.
More Ingenium Academy blog updates coming soon...