The Ingenium 2018 Blog: Week 2 - Weekend Update
What an amazing weekend we had here at the Ingenium Academy! Our concert in London at St James's Piccadilly was an immense success with wonderful performances and a packed audience. We have so many things to share with you so tune in if you want to find out what we've been up to at the end of Week 2 of Ingenium 2018.
On Friday, we started the day with an invigorating fitness warm up to get us ready for a day of rehearsals and finishing touches. It was our last chance to polish our performance for Saturday's concert, so we spent most of the sessions preparing and practicing.
Alongside rehearsals we had a few instrumental lessons going on during the day. We welcomed Claire Findlater (LSO, RPO) for flute lessons and Kate Addis (LPO, RPO) for Double Bass lessons.
After a long day we had a chance to relax with our Friday barbeque, in the sunshine. It was great to blow off some steam playing some football and cricket or simply lying on the grass enjoying the nice weather. We ended the day with our final whole-school meeting of the week, in which all the students that would sadly leave us at the end of the week received their awards and certificates. It was a warm and joyful evening and it was so lovely to see how close these young musicians have become in such a short time.
Bright and early on Saturday, we boarded the coaches and set off to London. We were headed for Greenwich Pier from where we boarded the boat that would take us on a trip up the river Thames. The tour enabled us to see some iconic landmarks such as Tower Bridge, the London Eye, Millenium Bridge, The Globe Theatre, St Paul's Cathedral and the Houses of Parliament among others.
We disembarked at Westminster Pier and walked past the Houses of Parliament and Elizabeth Tower (which we learned is the real name of the tower housing the bell known as Big Ben). We joined London's bustling streets and walked up to Buckingham Palace for a whole-school photo, before heading to Green Park. Here we enjoyed some much needed shade, and enjoyed our packed lunches before heading to the concert venue.
After lunch we spent the afternoon in our beautiful concert venue, St James's Church Piccadilly, rehearsing in the new acoustic and putting the finishing touches to our programme.
Eventually, with performances polished and concert attire on, we were ready to open the doors and welcome our audience! It was really special to be able to welcome friends and family of our students who had travelled from all over the world to see the results of everyone's hard work.
Our concert started with the orchestra and choir performing a beautiful Bach Chorale followed by an arrangement of Mozart's Voi Che Sapete for our saxophone quartet. Then it was time for some of our young pianists to take the stage and dazzle the audience with their interpretations of Liszt, Debussy, Chopin and many others.
The second half brought the return of the orchestra, this time with exhilarating music by Malcom Arnold and Bernard Hughes. They were followed by the saxophones who took us on a journey in the "Ingenium Express". The piece was their own aleatoric composition about different countries, and it was performed from each corner of the balcony. Finally, our choir took the stage. Directed by Adam Saunders they performed a thrilling and varied programme including Row Me Bully Boys Row, Accentuate the Positive and a beautiful interpretation of John Rutter's Lord Bless You And Keep You conducted by our student Kasia. They were then joined by our string orchestra, performing Adam's arrangement of Over the Hill is Home by Take 6.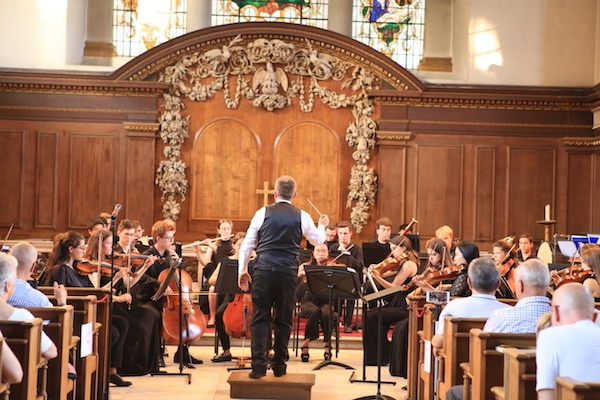 All too soon, it was time for our rousing finale, performed by the whole school - a rendition of Something Inside So Strong by Labi Siffre, which brought the house to its feet in applause and a few tears to our eyes. It was a moving and fitting end to our concert and the amazing weeks that we spent together. After a few final goodbyes to some of our students who were leaving us after the concert, it was time to drive back to Winchester.
Sunday was sadly time to say goodbye to the students that were leaving us, but we were excited to welcome the new faces joining us for our final week of Ingenium 2018. The morning offered an opportunity either for exploring the town of Winchester or some private practise time, before the new arrivals joined us at lunchtime. In the afternoon, our pastoral team organised rehearsals for our two boarding house teams to practice their entries for the Ingenium Talent Show that will take place on Tuesday - a chance for new students to get to know their fellow students and work as a team.
After dinner it was time for a whole school meeting to welcome our new students, and then everyone joined in the evening activity – an exhilarating Crystal Maze competition. We are ready and excited for all the amazing adventures this new week is going to bring. Stayed tuned!
Visit our Facebook page to see more photos.