Chamber Music Programme
Our unique chamber music programme is for 14–18 year old musicians with a passion for small ensemble playing.
About Our Chamber Music Programme
Dates: 15 - 22 July 2018
Our unique Chamber Music programme is for 14–18 year old musicians with a passion for small ensemble playing.
Under the guidance of some of the UK's foremost chamber music specialists, the week-long programme will see our students explore a range of challenging music in depth, focusing on ensemble technique in an immersive and collaborative environment.
Each day, students will warm up as a whole school before rehearsing in their chamber groups (string quartets, piano trios, wind quintets and more). Our specialized tutors will assist students in developing essential ensemble skills such as tuning and intonation, communication, dynamics and phrasing.
We also ensure that students gain a deep understanding of musical style, encouraging them to think about and interpret the historical and cultural context of the music. In addition to rehearsing in ensembles, our chamber students receive individual lessons and participate in a broad range of musicianship workshops.
The Chamber Music programme will run from 15 to 22 July 2018.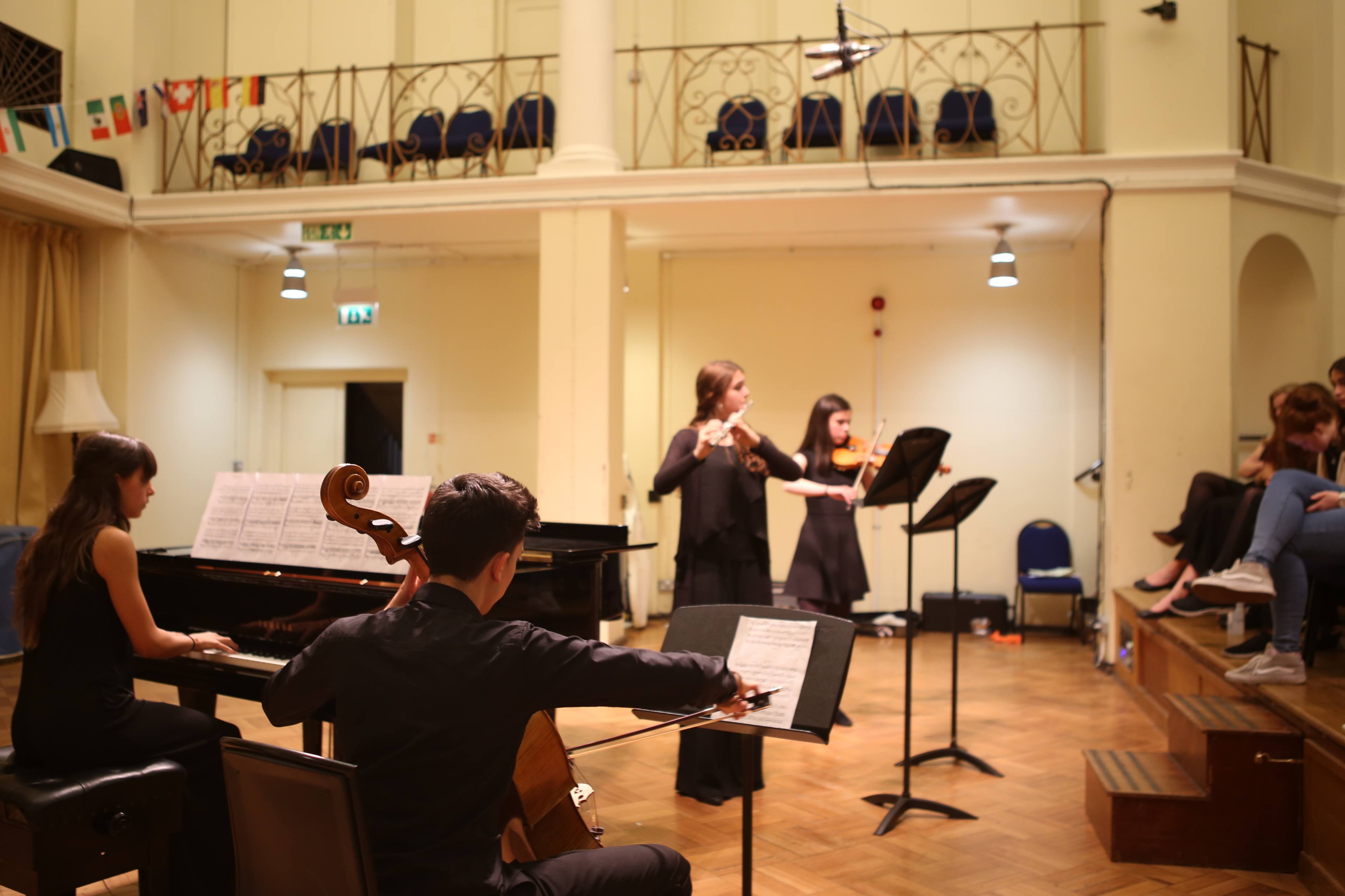 Auditions

To apply for the Chamber Music programme you will need to submit an audition video. Your video should include 2 contrasting pieces, and at least one of the pieces must unaccompanied. You also need to play a set excerpt for your instrument.
The week is aimed at bringing individual participants together, however it is possible for existing ensembles (duos, trios, quartets, quintets etc.) to apply.

Read more about chamber auditions here, or visit our How To Apply page for more information about putting together your application.
Workshops
Every week, our students take part in a wide range of vocal, instrumental and rhythmical workshops led by internationally renowned experts in jazz, chamber, folk and international music. These workshops are designed to broaden each student's musical experience by exposing them to something new.
Our industry experts lead a variety of workshops that have included:
Musical awareness, performance skills and interpretation
Composing and arranging
Conducting
Jazz improvisation and performance
Instrumental improvisation and devising music
Beatboxing and a cappella
International music
Life in the industry
Gospel Choir
Health instrumental practice techniques and avoiding injury
African drumming and body percussion