Saxophone Programme
Our saxophone programme is for 14-18 year old saxophonists who wish to develop and improve all aspects of their playing, increase their repertoire and gain ensemble experience.
About Our Saxophone Course
Online in 2021 - Virtual Ingenium
2022 dates coming soon...
Our saxophone programme is for 14–18 year olds who love playing any of the different types of saxophone and who are keen to develop all aspects of their solo and ensemble playing, whilst also discovering new repertoire and styles, gaining performance experience and exploring the capabilities of their instrument.
We strongly believe in the importance of nurturing the all-round musician, and as such we have created a varied programme of workshops and classes to make sure all areas are catered for.
World class tuition

The programme is directed by Dom Childs, whose international career has included concerts with the BBC Symphony Orchestra and Royal Philharmonic Orchestra. He is the alto player for the award-winning Forseti quartet based in Cologne, and teaches at institutions including the National Youth Wind Ensemble of Great Britain and Birmingham Conservatoire.

Saxophone students also have the opportunity to study with visiting professionals, such as Pete Long (Ronnie Scott's Jazz Club).
Improve your technique

A three-week intensive course is the perfect environment to make meaningful progress in your technique. Saxophone students benefit from daily one-to-one lessons and ensemble coaching, with plenty of opportunity to practice, in a supportive musical environment. The programme also covers areas including sight-reading and improvisation.
Discover new repertoire and different genres

Students are encouraged to focus on whatever they are most interested in, but the programme also includes the opportunity to explore pieces and genres that may be new to them. Whether it's jazz, funk, baroque, classical or contemporary, students can broaden their musical appreciation and discover new interests.
Learn extended techniques & new instruments

As well as working on new repertoire, students can spend time learning new and extended techniques such as circular breathing, multiphonics and flutter tonguing. There is also the opportunity to learn the soprano and baritone saxophones.
Workshops & Masterclasses

In addition to lessons and rehearsals, saxophone students join their fellow musicians from all our programmes to take part in a broad and engaging range of workshops and masterclasses designed to broaden students' musical horizons. These include composition, chamber music, conducting, performance anxiety, Alexander technique and much more.

Members of our pastoral staff are also conservatoire saxophone students, and will be on hand to mentor and support students in their private practice and development.
International music-making

Being part of the Ingenium Academy isn't just about learning from the best professionals in the UK. Our young musicians come from over 50 countries each year - the person next to you might have come from the other side of the world! It's a once-in-a-lifetime opportunity to learn about music and life in other countries from young people who share your passion.


Three week programme:
2022 dates coming soon...
If preferred, students may attend for one, two or three weeks.
"My tone improved thanks to Dom giving me some tips on articulation and vibrato, so that will affect my everyday playing greatly."
Gavin, saxophone student, Ireland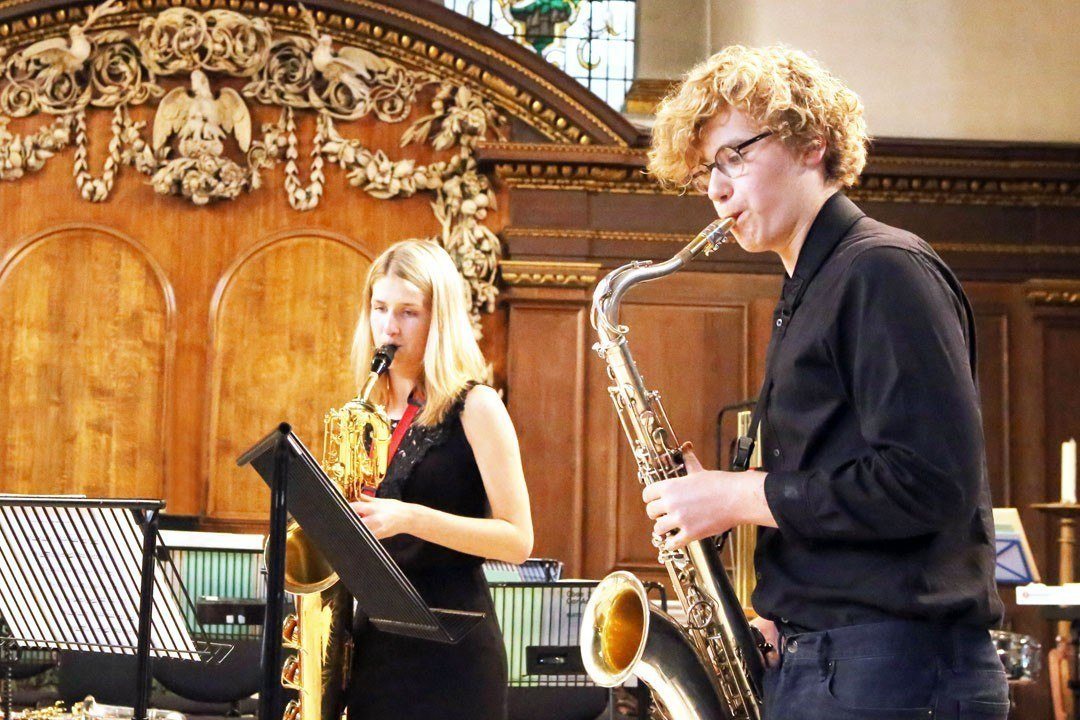 "Obviously Ingenium has hired some top notch teachers. Jason has made progress in both sax and voice during the 3 weeks. He has come home very motivated, is picking up his guitar and sax more often and is singing constantly."
Martha, parent, Switzerland/Canada
Workshops

Every week, our students will also have the opportunity to take part in a wide range of vocal, instrumental and musical workshops led by internationally renowned experts in jazz, chamber, folk and international music. These workshops are designed to broaden each student's musical experience by exposing them to something new and challenging.
Previous workshops have included:
Musical awareness, performance skills and interpretation

Composition and arranging

Jazz improvisation and performance

Instrumental improvisation and devising music

Chamber and small ensemble playing

Beatboxing and a cappella

Life in the music industry

Conducting and group leadership

G

ospel choir

Healthy instrumental practice techniques and avoiding injury

African drumming, body percussion and dance
Concerts and Performance Opportunities

During the three-week summer school, students perform three public concerts, one in a prestigious venue in central London and the others on campus at Winchester College's concert hall.
In addition to these two public performances, students also have weekly performance opportunities at our internal Performance Platforms. These evenings provide a friendly, safe and informal environment for students to experiment and to develop their performance skills, conquer nerves and build confidence. Further opportunities for saxophonists also include our Swing night, Cabaret night, and the garden party.

Parents and friends are welcome to attend our public performances. More information will be provided about these nearer the time.
Auditions
As part of your application to the Ingenium Academy you need to submit an audition video. Your video should include a minimum of 2 contrasting pieces, or excerpts from longer pieces, and 1 piece of technical work ie. a scale or study appropriate to your current level.
We are looking for young people not only with a high standard of musicianship, but with a great sense of team spirit and a love of music making.
Read more about instrumental auditions here, or visit our How To Apply page for more information about putting together your application.
Saxophone Staff

Our music teachers and workshop leaders are carefully selected not only for their extremely high standards of musicianship and expertise, but also for their energy and enthusiasm for working with young musicians and their talent for teaching.

All of our teachers have extensive experience and are committed to nurturing the talent of our students. Our teaching methods range from full masterclass lessons to group workshops, small chamber groups and one on one tuition, in which students are encouraged to focus on any aspects of their playing that they wish to develop.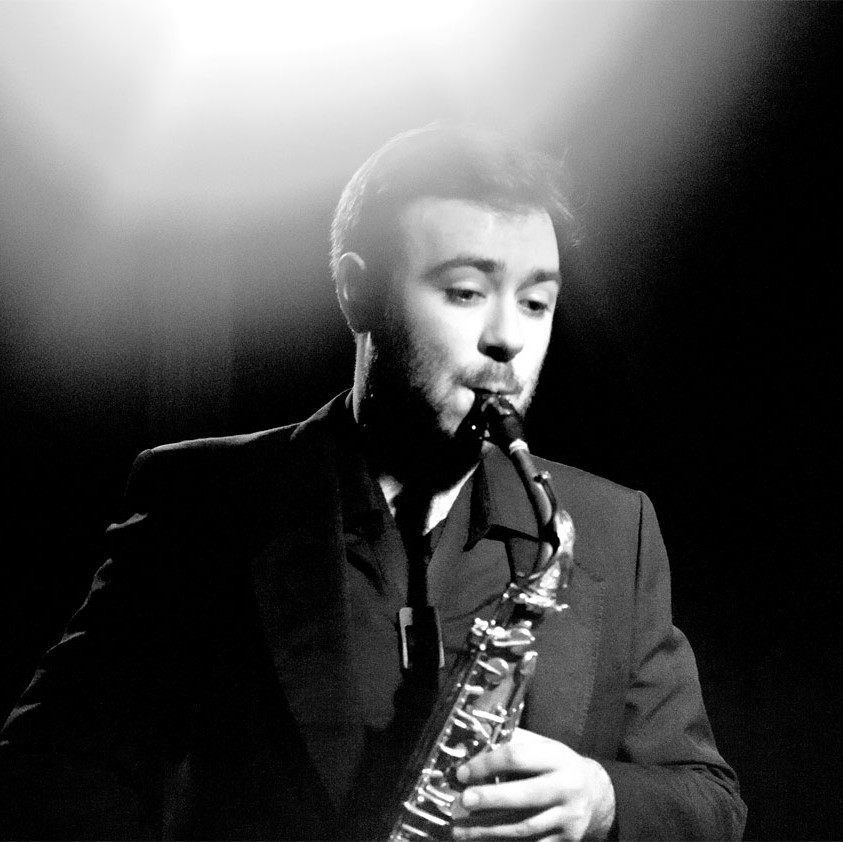 Dominic Childs
Dom is the Alto Saxophonist in the award winning Forseti Saxophone Quartet, regularly performing in some of Europe's finest chamber music venues. As an orchestral player he has performed with orchestras such as the Royal Philharmonic Orchestra, Royal Northern Sinfonia and the BBC Symphony Orchestra, including the 2015 Last Night of the Proms at the Albert Hall. Dom has held teaching positions at the National Youth Wind Ensemble and is the Saxophone Tutor at the Junior Birmingham Conservatoire.
A highly regarded saxophonist, with a performing, recording and teaching career spanning over twenty-five years, Sarah is both a Yamaha Performing Artist and a Vandoren Performing Artist. A highly regarded teacher, Sarah is saxophone tutor at the Royal College of Music junior department, Leeds College of Music and the universities of Huddersfield, Sheffield, York, Hull, and Durham.
Pete Long
Workshop leader
Pete directs the in-house Big Band at Ronnie Scott's jazz club in London, and has worked with, amongst others, Dizzy Gillespie, John Scofield, Chick Corea and Super Sax. A five-year stint playing and arranging for with Jools Holland's Rhythm and Blues Orchestra saw Pete working with Tom Jones, Norah Jones, Solomon Burke, Dr. John, Lulu, Georgie Fame and Lionel Richie, to name but a few, and producing arrangements for John Cale, Texas, Sir Paul McCartney, Candi Staton, Marti Pellow and Chrissy Hynde.