The superb musicians behind our music staff and our final Performance Platform - Week 3 Day 4
The end is near for our students, and they are doing everything they can to make it a great one.
Remarkable marimba playing
Dionysis Grammenos continued to give our orchestra committed coaching on the Haydn and Honneger that have formed the primary focus over the last few days, as well as movements from Prokofiev's 'Classical Symphony' and Haydn's Cello Concerto No. 1, with one of our cellists taking the leading role and playing superbly! Each day the group are building up new layers in the sounds, blends and colours to create a programme full of contrast and quirky moments. We can't wait to live it all for real on Saturday.
Haydn Cello Concerto No. 1
Newly invigorated by the treat of seeing the remarkable Wicked! in London the previous night, the choir gathered their newfound understanding of the musical and braved through a new arrangement of the music that would form the finale item for the Academy's closing concert. Starting thoughts on staging and clearing up harmonies were also on the agenda, and striving for perfection meant a push for memorisation of all our music. The quality of work was really beginning to show for just a day of rehearsals on this new arrangement.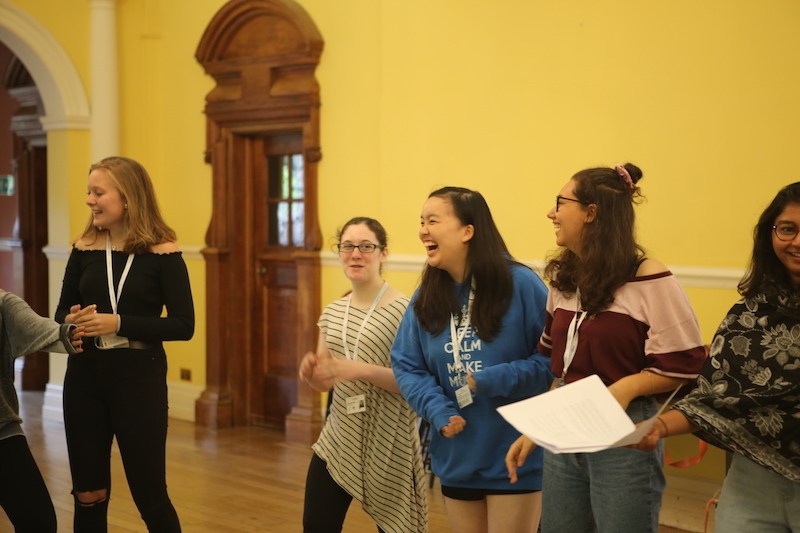 Lots of fun in choir rehearsals
Advancing through the week have been the saxophones. Already they have covered a broad range of repertoire, from classical to jazz and today contemporary. Sarah Markham equipped the young musicians with extended techniques, particularly multiphonics to start them on the path to discovery in this new work they are challenging themselves with. Each student experimented with their own instruments and the range of sounds produced was impressive, even moreso as many were using these techniques for just the second or even first time.
Saxophone rehearsals in full swing
All piano students had video sessions with Hiro Takenouchi, where health was the main topic of discussion. Using performances from pianists aged 25 and 80 for comparison, the group talked about the importance of staying healthy through all life and how age is not always a barrier to performance in itself. In this case, music is rather like sport in the need to exercise and stay on top form all the time, which no doubt our musicians have been doing! Clíodna Shanahan also gave sight reading sessions this afternoon, improving those important skills of quick processing of material and ideas.
Sight reading with Clíodna Shanahan
This afternoon's Musicianship took the form of an open discussion with both members of our pastoral team and music staff on firstly higher education, particularly in the UK, and then life as a professional musician. From the pastoral team, students found out the differences between a university and a conservatoire, advice for young musicians going to music college and most importantly, learned not to date someone in the same instrumental department!

Questions and answers with the music staff were also highly informative, again featuring advice for our young musicians on how to prepare for their long term futures, what inspired our staff in music and what being a professional musician actually looks like. There were still lots of questions by the end but we had to our day of music!
Panel session with our music staff
Tonight brought the final Performance Platform of 2019! Our last evening of intimate solo and chamber performances was one to remember. From Nic's enticing marimba solo, to Simon's captivating Rachmaninoff on the cello, to Celia's awesome Bruch on the violin, this evening's expressive performances brought everyone together in support and enthusiasm for what each musician was doing. The family spirit of the course really came to the fore, and to close this year's Performance Platforms in this spirit left us all on such a high.
Many successful performances in tonight's final Platform
And that's all for today! We have had another action packed day here in Winchester, and we're all ready for our last couple of days of the course. Join us tomorrow to see what unfolds.
See more photos from this summer on our Facebook page.
Our Programmes

More information on our seven programmes: Chamber Music, Composition, Conducting, Orchestral, Piano, Saxophone and Vocal.
Programmes range from 1 week to 4 weeks long. Students can attend one immersive programme, or broaden their experience by combining programmes to suit their interests.
Any Questions?

We love speaking to young musicians, teachers and families from around the world - so don't hesitate to get in touch, we'd love to hear from you!

Email: info@ingeniumacademy.com
Phone: +44 (0)20 7060 4076
Follow more of our adventures...