Three brand new course leaders and lots of new opportunities - Week 3 Day 1
Music is what everyone has been talking about today.
First rehearsals with Dionysis Grammenos
Music has been at the heart of activity, from the minute our students woke up to when they went to sleep. As we enjoyed our breakfast, there were words of excitement and anticipation of the day and week ahead. What new experiences will we soak up and what opportunities will we grasp with both hands?

As the day progressed, the answer to both questions was clear: so many. This began with our first Whole School Warm Up of the week, revitalising our 75 students and boosting their motivation and energy for the day's activities.
For our orchestra, it was then straight into a day of rehearsals on Haydn's Symphony No. 97 with brand new conductor, Dionysis Grammenos. Although not knowing what to expect as the first notes were played, the developments in just a few hours were highly promising. With such a classic piece to pull off for a potential spot in this week's concert, it was vital that the musicians concentrated their efforts into stylistic details from the start. With Dionysis' strong direction and high standards from the very beginning, this was certainly achieved and the musicians looked at each other, feeling the potential for some great sounds to come.
Our orchestral students getting stuck into Haydn
Choral students were excited to meet this week's brand new conductor, Sophia Papoulis, as well as new friends for those joining us for the first time. The group learned a variety of material, including some musical numbers and songs from around the world, primarily Karl Jenkins' 'Adiemus'. This is the first in a set of works that represent the concept of 'world music', where random syllables are used to form made up words, and every song in the set has a verse of made up text that is used through the song. Sophie Grimmer and Jennifer Snapes were also in again to give individual lessons, to a great benefit to our vocalists.
Breathing exercises with Sophia Papoulis
The saxophonists spent the morning getting to know each other through sight reading lots of music. There was then a discussion on alternate fingerings and their specific uses, as well as the best methods for achieving these. Sarah Markham, another one of our brand new tutors, gave each student a technique book to take and make the most of during the week. This focus on technical issues straight away was crucial for the group; having the time to look over these in individual practice sessions will mean our saxophonists can apply their findings to group music and as a result make some professional music together.
Saxophonists with Sarah Markham
Our high achieving piano department, led this week by Simon Callaghan, Clíodna Shanahan and Hiro Takenouchi, were keen to begin their week of focussed lessons and individual practice, as well as other exciting classes and opportunities. Jazz tutor Adam Saunders was also guiding our musicians through walking bass and extended jazz chords, and our students listened with open minds and a desire to learn.
Piano lesson with Hiro Takenouchi
The afternoon brought the first of this week's Musicianship sessions: a chance for our musicians to experience elements of music making they may not be able to otherwise. Options today included a vocal masterclass with Sophie Grimmer, a discussion on auditions with Adam Saunders and a concerto workshop with Dionysis Grammenos. Our orchestra collaborated with three soloists on some Haydn, Mozart and Saint-Säens, challenging the group on their ability to listen and adapt to a solo part and the soloists an opportunity to hear their pieces as a true representation of what the composers designed them to be.
Concerto workshop with Dionysis Grammenos
After a long day of immense activity, it was time to wind down with a film, comfy blankets and popcorn in our New Hall. The students definitely earned it!
Tomorrow brings more music making, fun activities and new discoveries!
See more photos from this summer on our Facebook page.
Musicians of the Day:
Orchestra: Simon, for showing confidence in the concerto workshop, 'sparkling' when playing the cello and showing professionalism when performing with the orchestra
Vocal: Gioia, for really taking a chance in the improvisation session, using her conducting knowledge to look at everything from various angles and singing with true expression
Saxophone: Laia, for wonderful playing all day, being helpful to and looking after others and concentrating well
Piano: Enric, for playing great in his jazz piano lesson, picking things up quickly and demonstrating excellent aural skills, as well as contributing lots in the auditions session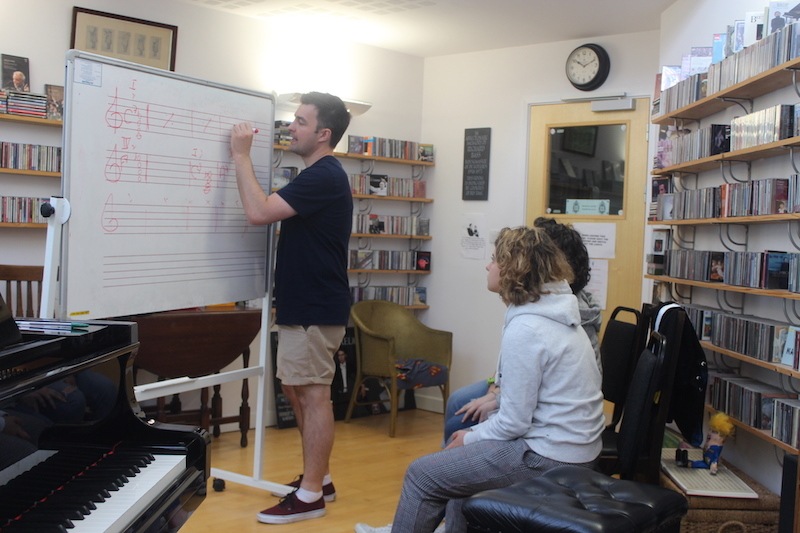 Our Programmes

More information on our seven programmes: Chamber Music, Composition, Conducting, Orchestral, Piano, Saxophone and Vocal.
Programmes range from 1 week to 4 weeks long. Students can attend one immersive programme, or broaden their experience by combining programmes to suit their interests.
Any Questions?

We love speaking to young musicians, teachers and families from around the world - so don't hesitate to get in touch, we'd love to hear from you!

Email: info@ingeniumacademy.com
Phone: +44 (0)20 7060 4076
Follow more of our adventures...