Huge performance success in St. James' Piccadilly, London - Week 2 Day 6
London calling!
Our Whole School Finale in St. James' Piccadilly
It was a bright and early morning for our young musicians, with a quick English breakfast of sausages, eggs and beans before we all hopped on the coach to make our way to the big city. Some of the group was full of energy for the day ahead, whilst others made the most of an opportunity to sleep!

Once arrived we went on a fascinating tour of the city, learning interesting facts about iconic London landmarks, from Trafalgar Square to Buckingham Palace to even a sneaky peek at Downing Street! Having this rich cultural experience is an important part of our students' time at Ingenium, and to have professionals deliver such a fascinating tour was a delight for all.
All our students in Trafalgar Square
Our end location was the spacious Green Park, an ideal spot for students to enjoy their lunch and some free time, taking in the inner city buzz and relaxed atmosphere before rehearsals started that afternoon.
Relaxing in Green Park
Whilst the majority of students enjoyed these London sights, our conducting cohort had the pleasure of visiting the world famous Royal Albert Hall to watch a BBC Proms rehearsal with the Scottish Symphonic Orchestra, conducted by Thomas Dausgaard and featuring violinist Pekka Kuusisto. To see the level of work in a professional orchestra was truly mesmerising for our conductors, inspiring them and giving them a look into where their hard work could take them if they wanted to pursue this art. After a quick trip to the iconic Victoria & Albert Museum and for some coffee, the group headed to J.P. Guivier & Co. to look at and buy batons. After a week of using elastic bands and kebab sticks, this was most definitely an upgrade!
Our conductors in the Royal Albert Hall
As everyone reunited, rehearsals kicked off, with each of our wonderful groups taking their turn in the beautiful St. James' Church in Piccadilly to test out the space, hear the balance and project to the back of the hall. Already, members of the public were coming in to listen, intrigued at the marvelous array of music echoing around the building. They were unaware that the best was still to come!

A good pre-concert meal is important before an engagement like St. James' Church, Piccadilly, so with this in mind the students were treated to enough healthy Subway sandwiches and cookies to feed them twice over! The energy levels were up, and after giving out awards to those sadly leaving us tomorrow, the emotions and adrenaline were also on a high.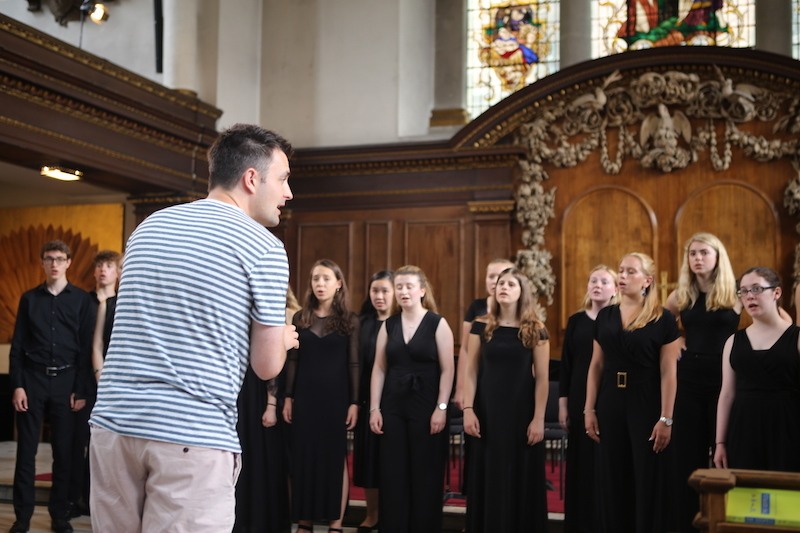 Rehearsing in the church
Then it was time to let friends, family and supporters in, all greeted with smiles and a warm welcome from our front of house staff. Once everyone had found their seats and the stage had been set, it was time for the show to commence.

What a show it was too, with big sounds from our orchestra, catchy tunes from our choir, impressive and storytelling saxophones, delicate solos from our pianos and a Whole School Finale of the classic 'Fly Me To The Moon' featuring all our conducting students. It was a remarkable spectacle from beginning to end, and for just four and a half days of work the students absolutely pulled it off. The reception was electric; the level of applause and cheers summed it up perfectly.
The orchestra conducted by Lee Reynolds
We quickly then headed back to the coach to return to Winchester. Even now as the night drew in, the levels of excitement coming from the students were still on a high, and it was lovely to see how much this successful concert meant to them. Well done everyone!
Outside Buckingham Palace
Wow! What a week it has been. Tomorow begins our final week of this epic summer adventure - see you then.
See more photos from this summer on our Facebook page.
Our Programmes

More information on our seven programmes: Chamber Music, Composition, Conducting, Orchestral, Piano, Saxophone and Vocal.
Programmes range from 1 week to 4 weeks long. Students can attend one immersive programme, or broaden their experience by combining programmes to suit their interests.
Any Questions?

We love speaking to young musicians, teachers and families from around the world - so don't hesitate to get in touch, we'd love to hear from you!

Email: info@ingeniumacademy.com
Phone: +44 (0)20 7060 4076
Follow more of our adventures...