Phenomenal masterclass with Alexandra Dariescu and the return of Cabaret - Week 2 Day 2
Today we have been braced with inspiration from all corners of the campus.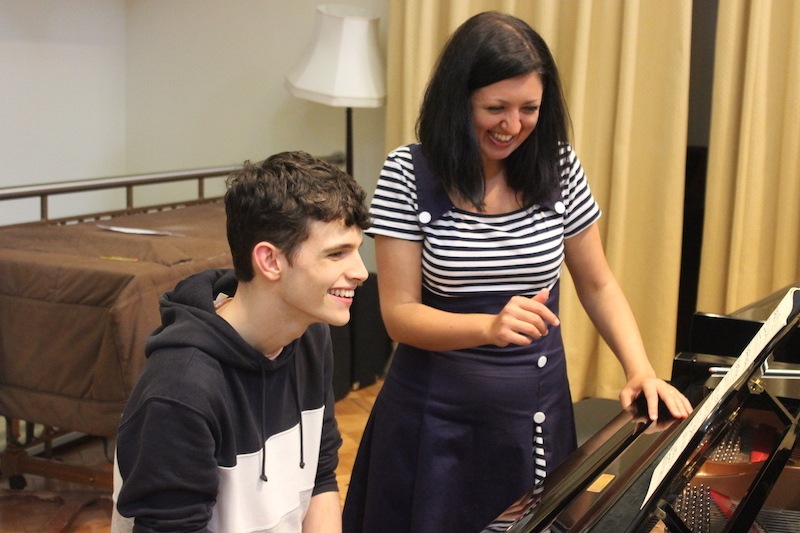 Piano masterclass with Alexandra Dariescu
For our orchestra this came in the form of more work with their refreshing new conductor, Lee Reynolds. In full sessions they tightened up intonation, focussed on coming in as one group and made it their mission to match articulations when the same. However, the first part of the day comprised of sectionals, with the strings dissecting Bizet's Carmen Suite and the winds scrutinised Ravel's Mother Goose Suite and Korngold's Theme and Variations. Led by Dan Shilladay, the strings' main focus was to recreate the sounds of nineteenth century Seville, brightening up their sound and bringing even more enthusiasm to the players. The winds' work was more technically based. Clare Findlater made the musicians dig deep to find blend in their sound and to ensure that every chord was in tune from the very start. The high levels of concentration could be felt across the whole building.
String sectional with Dan Shilladay
Our vocalists have begun working on their pieces for this week's concert. The main focus today was Steven Pauls' Road to Home, which the group looked at together and then in sections (SATB). When back as one group, they ran the material through and ensured a complete blend of sound, not letting any one voice stick out. This level of detail echoes that of a professional choir and is something to be admired on day 2!
Choir with Adam Saunders
The saxophones were under the expert guidance of jazz specialist Michael Chillingworth today. He introduced them to famous tunes from internationally renowned Charlie Parker, all using blues progressions more complex than that of a standard blues. Modes were also discussed and how to go about delivering them in improvisatory passages. Dom Childs gave our saxophonists a chance of refining their skills in individual lessons, focussing on parts and solo pieces too.
Saxophone lesson with Dom Childs
Pianists were incredibly fortunate to have a masterclass with the extraordinary Alexandra Dariescu, on top of their usual lessons and classes throughout the day. In these sessions students impressed with their range of material, and having quality time with Alexandra Dariescu to go over practice methods and technique improvement enhanced the students' skills across the board. Being able to go into minute details was refreshing to watch, showing how our piano students' hard work has already paid off! We can't wait to see them improve even more throughout the rest of the week.
Discussions on technique and performance
Test pieces were on the agenda for our conductors today, primarily Stravinsky's Octet. Learning complex beating patterns proved key for a piece like this, as was knowing the music inside out to gain a grasp on the melodic material. Being able to work on pieces of this difficulty already is a sentiment to our conductors, and preparing them for real life situations is even better. The group then refined their interval knowledge with some exercises with the piano and vocalising scores.
Our conducting students working on score reading and aural skills
Today's musicianship gave our students an eclectic range of options again to further their general musical skills and knowledge. Classes today included audition preparation with our piano team, improvisation with Matt Sharp and jazz band with Michael Chillingworth. All opened our students to new possibilities and tested them in ways that they may not have had access to otherwise.
Jazz band with Michael Chillingworth
An Ingenium favourite returned this evening: Cabaret night. The lights were set on low for a night of theatrical showcases, from timeless Frank Sinatra, upbeat pop tunes and even an arrangement of The Champs' famous 'Tequila', which had everyone up on their feet having a good old fashioned boogie. Our musicians gave it all they could, and for that we are proud.
Cabaret
More proud moments are sure to follow in the coming days, and we'll be ready for every single one.
See more photos from this summer on our Facebook page.
Musicians of the day:
Orchestra: Ben, for fantastic solos that were not just great because they were big and brassy, but thoughtful and musical
Vocal: Molly, for always being alert and on it, singing really well, supporting the section and getting the vibe of each song
Saxophone: Miguel, for throwing himself into the jazz session, being up for improvising, growing and working outside his comfort zone. He also had a good lesson, taking onboard ideas and working really hard on his English
Piano: Olivia, for making notes in the masterclass, being open to change in her lesson and striving for quality in her playing
Conductor: Alisha, for mastering the skill of following/accompanying a concerto soloist with Dariescu, being flexible and overcoming some conducting challenges
Our Programmes

More information on our seven programmes: Chamber Music, Composition, Conducting, Orchestral, Piano, Saxophone and Vocal.
Programmes range from 1 week to 4 weeks long. Students can attend one immersive programme, or broaden their experience by combining programmes to suit their interests.
Any Questions?

We love speaking to young musicians, teachers and families from around the world - so don't hesitate to get in touch, we'd love to hear from you!

Email: info@ingeniumacademy.com
Phone: +44 (0)20 7060 4076
Follow more of our adventures...