Masterclass with Sue Dent and more Performance Platform Success - Week 1 Day 4
Another exciting day for our Ingenium students!
Our orchestra performing Schubert for the whole school
Temperatures rose to 33 degrees today, but our musicians also rose to the challenge of their final full day of rehearsals before the week's concert.

During the morning our orchestral and conducting students came together to work on Rossini's Thieving Magpie Overture. Each conducting student took a ten minute rehearsal with the orchestra and directed the group impressively, showing how far they have already come this week. Guiding them through was the tremendous Tim Redmond, giving them tips on how to tune chords, how to grab the orchestra's attention quickly and then how to direct them towards a successful performance. The orchestral students were perceptive and respectful of their conducting colleagues, and it was remarkable how different the sound was with each different conductor.
Conductors and orchestra working together

Our choir was next to welcome the conductors, whose challenge was to express more with their face and actions and understand the differences between choral and orchestral conducting. Everyone rose to the challenge with contemporary music from Judith Weir, testing out the conductors' abilities to conduct in 5/4 whilst maintaining expression in their movements - and challenging the choir to accept different direction and new interpretations of the piece they have been singing with Tom Appleton.
Conducting the choir
Our saxophonists had concert preparation at the forefront of their timetable, splitting into smaller sections to refine their individual parts and also making the most of individual practice time, which for some meant taking their music outside in the glorious summer weather. Focus in larger sessions was primarily on articulation, including the need to make detached notes shorter on bigger instruments to match the rest of the ensemble. They then applied all this work to an arrangement of Bohemian Rhapsody, allowing the group to put this technique into practice.
Saxophones in rehearsal
Piano players also had a great day in store, with lessons continuing with our first class team, and as a final boost towards Friday's concert, a fantastic faculty performance from our very own Hiro Takenouchi, who treated us to Mozart's intricate Sonata in A Minor K310 and Chopin's Sonata in B Minor. The atmosphere was electric.
Piano lesson with Richard Sisson
The composers continued collaborating with their musicians. They workshopped their pieces together, hearing different dynamics and articulation from the musicians and experimenting with sounds and textures. Being able to listen to the music played live made final tweaks for tomorrow's concert more feasible, with the composers able to consult the musicians to see what works best for each of them. We can't wait to hear their premieres tomorrow!
Composers with our staff instrumentalists
Today's musicianship involved a variety of options for our young musicians, including Vocal Health with Sophie Grimmer, Composition with Michael Betteridge, a Concerto Workshop for pianists and orchestra with Matthew Taylor and a masterclass entitled 'The Weapons of Rhetoric' with Royal College of Music professor Sue Dent. This was all about communication with the public through performance, focussing on the importance of every little detail that catches the attention on stage, from every sound to every silence. This proved valuable for our orchestra, who gave a runthrough of the first two movements of Schubert's Unfinished Symphony to our whole school before we settled down for dinner.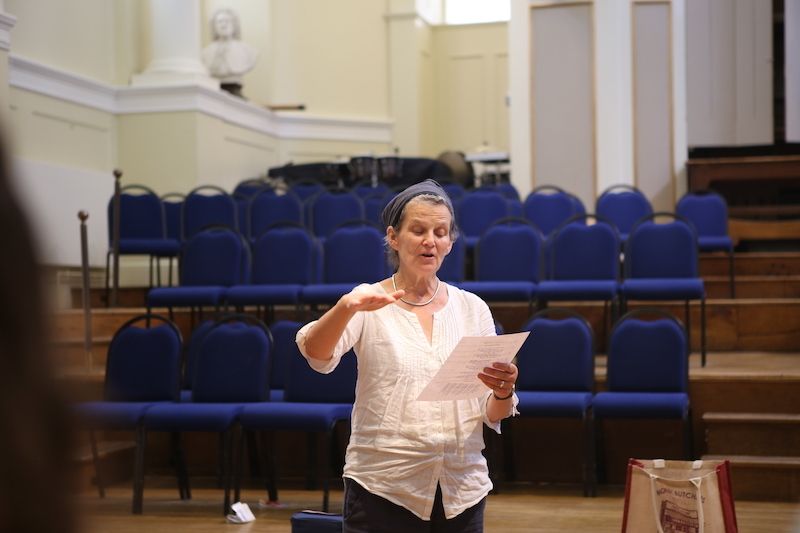 Sue Dent on 'The Weapons of Rhetoric'
Thursdays at Ingenium mean Performance Platform, and tonight's did not disappoint. From Nic's epic Rachmaninoff, to Nat and Gioia's folk duet to Olivier's funky piano rendition of Michael Jackson's 'Man in the Mirror', this concert had it all. Everyone was able to express themselves freely in a welcoming and supportive environment, making for a special evening and inspiring us to strive for the best in our concert te following day.
Another successful Performance Platform
With concert day just around the corner, we're ready to see what these young musicians are really capable of and we can't wait to share it with you!
See more photos from this summer on our Facebook page.
Musicians of the day:
Orchestra: Team Viola (Natasha & Cosette), for being utterly professional the whole day in a section of just two!
Vocal: Anna D, for having a great can do attitude towards learning the Weir, encouraging others, developing tone and blending beautifully
Saxophone: Anna R, for being engaged, improvising scales, trying new things and having a good attitude all week
Piano: Dougie, for working well with the orchestra, realising new potential and inspiring piano staff with optimism
Conductor: Davide and Sydney
Davide, for conducting choir for the first time very well
Sydney, for going between oboe and timpani in orchestral conducting
Composer: Allesandro, for workshopping his piece, finding faith in himself and embracing elements of composition that he hadn't before
Our Programmes

More information on our seven programmes: Chamber Music, Composition, Conducting, Orchestral, Piano, Saxophone and Vocal.
Programmes range from 1 week to 4 weeks long. Students can attend one immersive programme, or broaden their experience by combining programmes to suit their interests.
Any Questions?

We love speaking to young musicians, teachers and families from around the world - so don't hesitate to get in touch, we'd love to hear from you!

Email: info@ingeniumacademy.com
Phone: +44 (0)20 7060 4076
Follow more of our adventures...